JOIN US!

Further Reading - General Interest
Staying Off the Beaten Track in England & Wales
Synopsis ~ An annual guide to moderately priced bed-and-breakfast accommodation in England and Wales. Each of more than 600 establishments is illustrated, the details are accompanied by local information, and recent county changes are incorporated in the maps.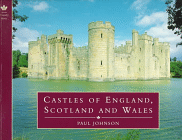 Castles of England, Scotland and Wales
Synopsis ~ Traces each stage of the development of Britain's castles, from Norman times through Plantagenet and Edwardian expansion in Wales, Tudor strengthening of the coastal defences, the devastation of the Civil War, and the gradual decay of the castle, to the creation of mock castles.

Lights Out for the Territory
Review ~ A reader from U.K , 26 February, 1999
The resurfacing roads of my childhood. You don't have to know the Bakers Arms, Walthamstow Tech, or Chingford Mount Cemetary as well as I do to enjoy this eye-opening journey by Iain Sinclair. The words jump off the walls, and encourages anyone to open their eyes next time they take a walk around their local patch. "Free George Davis," or "Nostalgia/Is/A/Weapon," the opinion of the streets becomes interwoven with documented fact and the myth and folk lore of a community. The only mystery, is how Mr. Sinclair missed Walthamstow Cemetary, Queens Road, and The Light House? Perhaps next time?

Fodor's Gold Guides: Great Britain: 98
Synopsis ~ As well as details of over 1000 places to stay and over 1200 restaurants, this guide to Britain contains advice on products such as woollens, china, jewellery and local crafts, and on sports facilities, stately homes and other tourist attractions. A whole chapter is devoted to Stratford-upon-Avon.
Christopher Saxton's 16th Century Maps
Synopsis ~ In the 1570s, under the authority of Queen Elizabeth I, Christopher Saxton surveyed and drew maps of all the counties of England and Wales. First published in 1579, and reproduced here from hand-coloured copies, the maps provide a historical and genealogical record of early England and Wales.

Cycling Great Britain : Bicycle Touring Adventures in England, Scotland and Wales (Active Travel Series)
Synopsis ~ This is a guide to bicycle touring adventures in England, Scotland and Wales. It gives an overview of touring the British mainland, and provides detailed descriptions of 30 different bicycle tours, with route maps, varying in length from two-day trips to a two-week tour.

Maps for Family History
Synopsis ~ This is an introduction to the three great land surveys of modern times. The book should be of interest to family historians, land and agricultural historians, and those interested in the history of their village or cottage.

Fodor's Special Interest Guides: Rock & Roll Traveller Great Britain and Ireland - The Ultimate Guide to Famous Rock Hangouts Past and Present
Synopsis ~ A guide to places in England and Ireland with rock-and-roll associations. Descriptions of their historical significance are accompanied by anecdotes and "fun" trivia, written for fans of all ages, covering legendary groups and current chart busters alike. Hotel and restaurant details are included.
Golf Great Britain and Ireland : A Traveler's Guide to More Than 2,500 Courses in England, Scotland, Wales, Northern Ireland, and Ireland
Review ~ A reader from New York, NY , 23 October, 1997
A must-have for golfing travel to the British isles. This book is invaluable. It gives all the details needed to plan and set up a golfing vacation to Great Britain. Golf reviews are short and to the point and quite reliable.

Nicholson/Ordnance Survey Waterway Guide No 4: Four Counties and the Welsh Canals
Synopsis ~ This range of guides gives coverage of the inland waterways network. This guide covers four counties and the Welsh canals. It includes colour mapping with symbols and towpaths clearly shown.
The National Trust Guide
Synopsis ~ This comprenhensive guide is fully illustrated. It offers detailed information of all the National Trust properties, from the great country houses such as Kedleston Hall and the world famous gardens of Sissinghurst, to the lesser known oddities such as the last water-driven spade mill in Ireland and a 16 sided house in Devon.

Gardens of England and Wales: 1999
Reviews / Book Jacket ~ "The Yellow Book invites us to share other people's dream, often take home ideas, and so, like a yeast its influence permeates many gardens, whether they are included in this unique publication or not." -- Beth Chatto
"The Yellow Book is such a byword among all lovers of gardens that no one would ever dreams of going out without it whenever they move outside their own homes. It is indispensable." --Christopher Lloyd
"Visiting other people's gardens is as crucial to gardening as feeding the plants or dead-heading a rose. The Yellow Book is invaluable by annually pointing us in the right direction." --Mirabel Osler
"There's nothing like going around other people's garden to provide you with inspiration for your own. The National Gardens Scheme's Yellow Book is a mine of information." --Alan Titchmarsh
QUICK FIND

SPECIAL OFFERS

HOTELS IN OTHER COUNTRIES

RECOMMENDED READING