JOIN US!

Further Reading - Guidebooks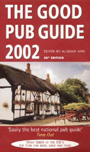 The Good Pub Guide: 2002
Synopsis ~ Independent, honest and entertaining, "The Good Pub Guide" provides information on places to eat and drink, the prices, the facilities and the award systems. There are over 5000 entries covering waterside pubs, city pubs, rural inns and backstreet gems.
From the Author ~ ALISDAIR AIRD SAYS:
I started the Guide nearly 20 years ago, going to visit all the pubs to check out whether I'd want to recommend them to my friends. Now, I'm helped in this by three full-time people, and by many thousands of readers who also love pubs and are kind enough to tell us about all the best places they visit. But no pub makes it into the Guide without a rigorous anonymous inspection. The range of places is terrific, from unspoilt taverns through places stocking and even brewing...

The 1999 Good Curry Guide
Synopsis ~ This guide provides information on Britain's favourite curry restaurants. It includes details of price ranges, vegetarian options, discounts and home delivery, as well as an alphabetical town index and an A to Z of the curry menu.

Henrietta Green's Food Lovers' Guide to Britain
Synopsis ~ A revised edition, with 100 new entries, of a book which won the Michael Smith Award for its contribution to the promotion of British food. It provides a survey of producers, shops, pubs and restaurants, with details such as the range of produce, recipes, tips on using the food, and opening times.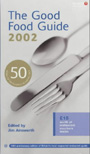 The Good Food Guide: 2002
Synopsis ~ Starting life in 1951 when it pointed readers to places where they could find competent cooking, half a century on THE GOOD FOOD GUIDE now covers a restaurant scene hailed by many as the most vibrant in the world. Entries convey the character and ambience of the restaurant and food and wine served, plus give comprehensive details of opening times, prices, policy on children and smoking, wheelchair access and accommodation.
Review ~ A reader from London, UK, 6 October, 2001 ~ The Good Food Guide 2002 follows the format of previous Guides; the introduction (which this year has a ten point checklist on what NOT to do to win custom) followed by reviews of each restaurant - outlining the meal, environment and experience, with a detail section including marks for cooking, wheelchair access, vegetarian options, name of the chef and proprietors, and so on.

Restaurants are ordered alphabetically by name within London, followed by the rest of the UK alphabetically by location. There are some good colour maps, with the locations of featured restaurants marked - I have already used this to find somewhere new on the fly while out in London, and had a fantastic meal as a result! There are three £5 vouchers which can be used at many of the listed restaurants, which both tempts you to try somewhere different, and recoups the cost of the book.

The Guide is thorough and reliable, as I find that most of my experiences at restaurants mirror that of their inspectors' - which means I can trust their judgement and enjoy finding new and interesting places to eat. The best guide of its kind!

"The Which?" Guide to Country Pubs
Synopsis ~ This guide recommends pubs in country towns and villages throughout Britain. The guide highlights aspects such as friendliness and service, value for money, quality food and beer, condition of toilets, no-smoking areas, car parking and wheelchair access.
Out to Eat
Synopsis ~ A guide to 1200 restaurants, pubs, wine bars, cafes and tea shops in Britain, where the quality of food is reliable and the prices reasonable. It is produced by the "Good Food Guide" team.

The Good Pub Guide: 1997
Synopsis ~ The new edition of this guide contains county-by-county reference on over 5000 of the best, recommended pubs in England, Scotland, Wales and the Channel Islands. About 1300 entries include detailed descriptions of pubs which have been personally inspected and assessed for food, drink, atmosphere, prices, opening hours, and whether children are welcome. The rest, listed in the "Lucky Dip" sections, are recommended by readers and an anonymous personal inspection. Features include: maps, special lists highlighting pubs with gardens and no-smoking areas, with home-brewed beer, or on the waterside, plus special awards for outstanding food and value-for-money meals.
QUICK FIND

SPECIAL OFFERS

HOTELS IN OTHER COUNTRIES

RECOMMENDED READING