Wales: the Rough Guide
Synopsis ~ This travel guide to Wales features mountain walks, information on alternative culture, coverage of Welsh environmental and nationalist issues and details of Welsh culture and language. Also included are critical listings of restaurants, pubs and accommodation.

Exploring Wales
Review / Amazon.co.uk - Ben Naylor ~ The author of this addition to the Exploring series of books, Malcolm Joyce, is an industrial research scientist who has spent much of his time photographing and writing about walking and mountaineering in Wales--and in particular North Wales.
This book details 20 superb walks in Wales, which illustrate the wide variety of terrain, from mountain scrambles to the more gentle walks by lakes and through woodlands, and the majestic coastal scenery where high precipitous cliffs plunge steeply into the swirling seas far below. Most of the walks are in and around Snowdonia, an area of particular interest to the author, who has illustrated his writing with a selection of photographs he took during his meanderings.
As one would expect from a scientist, the information is meticulously presented. Each of the walks has a route map and a relief map to illustrate the variation of the gradient along the route. A summary table provides details of car parking and start/finish points, public transport, specific features of interest etc, as well as the length and severity of the walk.
The route directions are very good--comprehensive and easy to follow; one can almost see where your next footstep will land! Most of the routes are circular, with varying degrees of difficulty to suit all levels of walkers. It is a worthy addition to any walking library.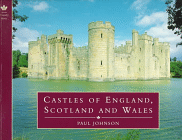 Castles of England, Scotland and Wales
Synopsis ~ Traces each stage of the development of Britain's castles, from Norman times through Plantagenet and Edwardian expansion in Wales, Tudor strengthening of the coastal defences, the devastation of the Civil War, and the gradual decay of the castle, to the creation of mock castles.
Snowdonia to the Gower
Synopsis ~ This illustrated guide book gives a visual and literary narrative covering a long distance walk through the Welsh mountains from Conwy Bay in the north to the Gower Peninsula in the south. The walk is split into eleven stages (each for one day of walking). Each stage is given a full narrative description and is illustrated with photographs and a detailed map, with low level and high level alternatives so that the walk is fully adjustable to the prevailing weather conditions.

On the Road Around England and Wales
Synopsis ~ Catering for both tourists on fly-drive holidays and for Britons on short breaks or day trips, this guide focuses on both towns of tourist interest and scenic rural areas such as the Cotswolds. Most of the driving routes can be completed within a day, including clear directions to car parks.

Travels in an Old Tongue
Synopsis ~ Studying in Lampeter, Dyfed and learning Welsh, Pamela Petro found it infuriating that whenever she stumbled with her Welsh, the locals would always revert to English. She decided to go where English was not an option - all kinds of unlikely places with long-standing Welsh-speaking communities. She visited the Hong Kong Men's Choir, all Chinaman who sing in Welsh; the Japanese bardic "eisteddfod" in Tokyo; the Welsh golfers of Oslo; the diners of the Paris Welsh society; and Patagonia.

Ordnance Survey Cycle Tours: South, West & Mid-Wales
Synopsis ~ This regional cycling guide contains a selection of routes, including 14 on-road and 10 off-road sections, highlighted on OS 1:50,000 Landranger mapping and supplemented with an introduction to the area of each route, a gradient diagram, information on length and difficulty and a guide to places of interest en route. The A5 format is convenient to use, and there is an introduction containing useful guidelines for cycle maintenance and repair.

Anglesey Coast Walks
Synopsis ~ This is a guide to the coastal walks in Anglesey, the island lying across the Menai Straits in north-west Wales. The author guides you around the island in smallish stages and describes the distinctive character of its geology, geography and history: the east coast with its long beaches and estuaries and the Penmon peninsula; the west with its varied coastline and Holyhead Island; the north with its spectacular cliffs and coves comparable with those of West Cornwall. Interesting land features and stories of the people of this Welsh isle are included.
Guide to Dyfi Valley
Synopsis ~ A guide to a 108-mile walk through one of Britain's most picturesque valleys. With easy to follow strip maps, the Dyfi Valley Way can be divided into convenient sections to suit your own specific needs, or you can follow the route as suggested over nine days. The Dyfi Valley is traditionally the frontier between North and South Wales. There is no better way of exploring this area than on foot. Information about public transport, accommodation, shops and cafes is included and notes on interesting places to visit.

Nicholson/Ordnance Survey Waterway Guide No 4: Four Counties and the Welsh Canals
Synopsis ~ This range of guides gives coverage of the inland waterways network. This guide covers four counties and the Welsh canals. It includes colour mapping with symbols and towpaths clearly shown.
The National Trust Guide
Synopsis ~ This comprenhensive guide is fully illustrated. It offers detailed information of all the National Trust properties, from the great country houses such as Kedleston Hall and the world famous gardens of Sissinghurst, to the lesser known oddities such as the last water-driven spade mill in Ireland and a 16 sided house in Devon.

Gardens of England and Wales: 1999
Reviews / Book Jacket ~ "The Yellow Book invites us to share other people's dream, often take home ideas, and so, like a yeast its influence permeates many gardens, whether they are included in this unique publication or not." -- Beth Chatto
"The Yellow Book is such a byword among all lovers of gardens that no one would ever dreams of going out without it whenever they move outside their own homes. It is indispensable." --Christopher Lloyd
"Visiting other people's gardens is as crucial to gardening as feeding the plants or dead-heading a rose. The Yellow Book is invaluable by annually pointing us in the right direction." --Mirabel Osler
"There's nothing like going around other people's garden to provide you with inspiration for your own. The National Gardens Scheme's Yellow Book is a mine of information." --Alan Titchmarsh